Compassion in Action signs 'forces-friendly' Covenant pledge
20/02/2019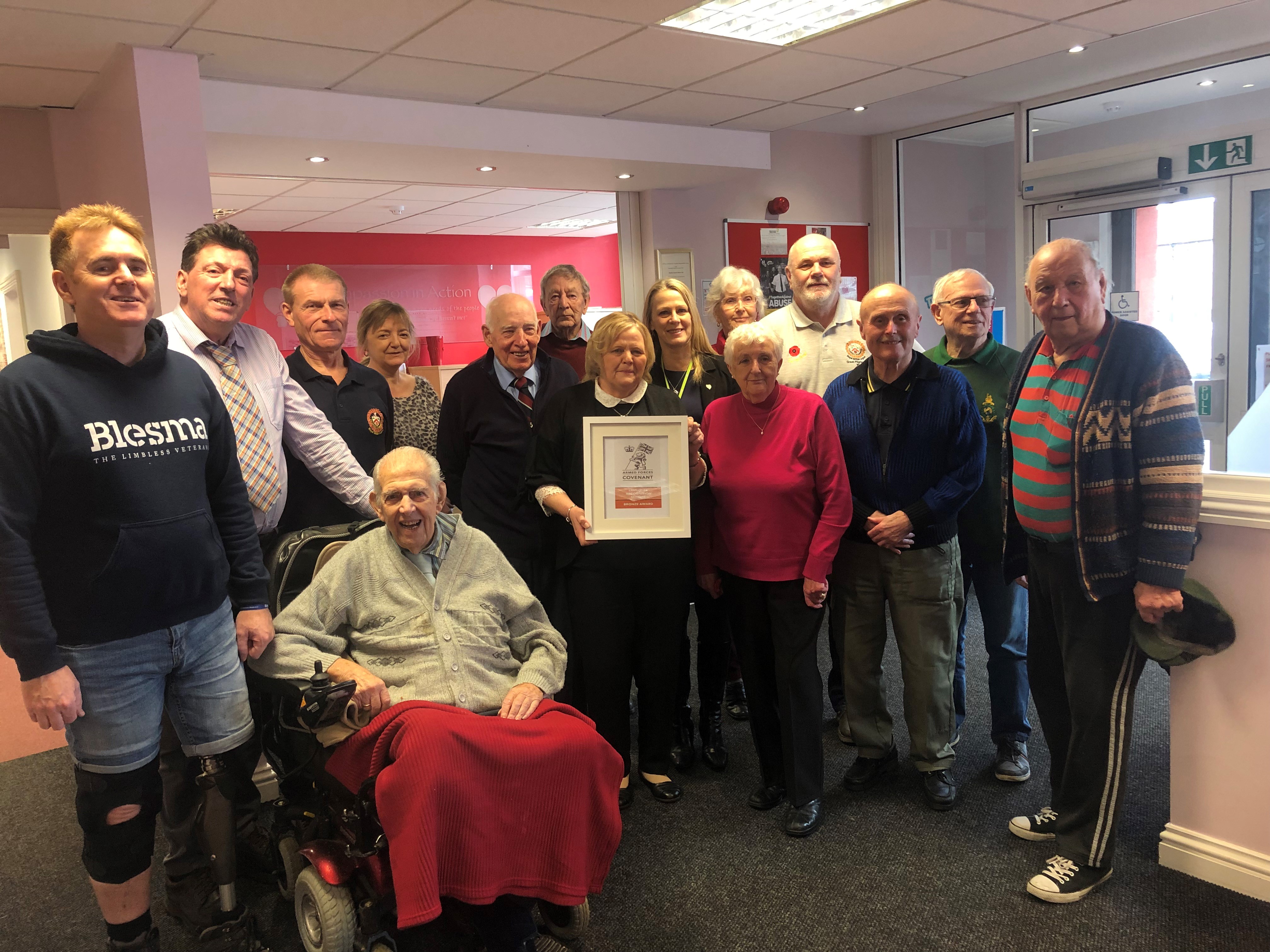 Compassion in Action are proud to have signed the Armed Forces Covenant in recognition of their continuing support to veterans.
The Leigh-based charity held its first brunch for ex-armed forces and Royal British Legion members in October 2015. An immediate success, the friendship group continues to meet weekly on Thursdays at Compassion in Action's Leigh Road headquarters.
"Signing the Armed Forces Covenant is our pledge to treat our local heroes and their families with fairness and respect," says Pam Gilligan, the charity's Chief Executive Officer. "At Patrick House, they can claim their rightful place at the heart of the community they have so selflessly served.
'Our brunches have reignited the sense of comradeship that is so important to tackling loneliness. Friendship, advice and support are all on the menu, as well as good home-cooked food."
Since successfully uniting members of the Leigh, Atherton and Tyldesley branches of the Royal British Legion and the Royal Air Forces Association for the first time ever, Compassion in Action's brunch has gone from strength to strength. Highlights have included hosting a Guard of Honour for West Leigh veteran Ken Preter, who finally received his service medals 75 years after signing up to the Royal Marines.
By pledging to the Covenant, the charity is supporting an ideal that members of the armed forces community should have the same access to government and commercial services and products as any other citizen.
Pam adds: "Through the support network that the brunch has created, our veterans can access everything from help with housing and benefits to work opportunities and a social life. While we can never fully repay our debt to those who serve with their lives, it is our greatest hope that they feel valued and supported in later years."
Compassion in Action has been given a Bronze Award in the Employer Recognition Scheme run by the Armed Forces Covenant. The award acknowledges employers who have provided exceptional support to the armed forces community and defence by going above and beyond their Covenant pledges.
To find out more about the veterans' brunch, contact Compassion in Action on 01942 262636.
PHOTO CAPTION: Pam Gilligan is pictured with Gillian Burchall, Armed Forces Key Worker, and our wonderful veterans.