Lowton
Lowton Community Outlet is situated at the heart of the village to the rear of Lowton Social Club and next door to Rowlands Pharmacy.
A place of hope for those who are experiencing financial crisis, our outlet empowers local families to buy furniture and other household necessities at significantly reduced prices.
More recently, we have adapted our premises to create a 'Heat Retreat' where adults of all ages can keep warm, enjoy a free snack and seek cost of living support.
What can I expect to find?
Accessed via two shop fronts, Lowton Community Outlet is divided into a furniture shop selling household items, and a cosy and welcoming 'Heat Retreat'.
You will be warmly greeted by our Community Outlet Manager Sarah Barrington and her colleague Kasia Symoczko, as well as volunteers. Their role is to serve customers in the furniture shop and to signpost residents to sources of cost of living support at the 'Heat Retreat'.
What is your pricing policy?
We request a nominal donation for furniture and household items, and are proud to help residents move from dependency to independence by furnishing their own homes.
Snacks and drinks are provided free of charge in our 'Heat Retreat'.
Can I get a refund?
No refunds are provided on furniture or household items.
All furniture and household items are sold in good working order – having been carefully inspected for breakages and other damage; however, customers are encouraged to ensure they are happy with all purchases before leaving the premises.
When is the outlet open?
Lowton Community Outlet is open Monday to Friday from 10am to 3pm (except on Bank Holidays).
Is there any free car parking nearby?
A large car park is situated next to the community outlet and no payment is required.
If you are picking up an item of furniture, you may also park directly in front of the shop.
What is your donation policy?
Compassion in Action is no longer accepting donations at the Lowton Community Outlet.
Please look out for details of how to support our annual Christmas Toy Appeal and Easter Egg Appeal.
Code of Conduct
Our staff and volunteers are highly valued members of our team, who are playing an active role in supporting vulnerable local people.
Displays of aggression (verbal or physical) and all types of abuse are not permitted or tolerated at our outlet.
You may be asked to leave our premises, or forbidden from returning, if you are in breach of this Code of Conduct.
I have another question. How can I get in touch?
You are welcome to call into our outlet in person or telephone our charity's headquarters on 01942 418830 during regular working hours.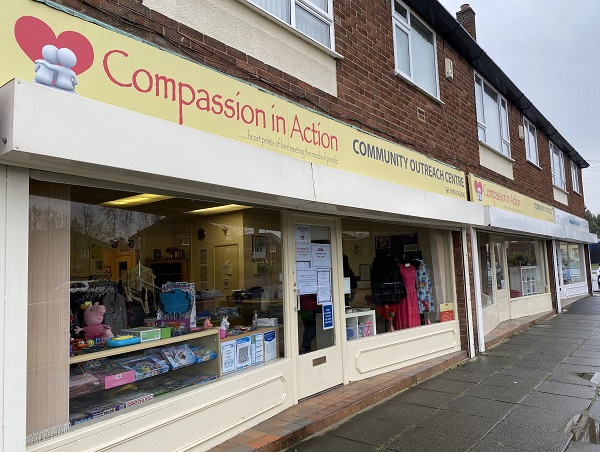 How to Find Us
Address
9 & 17 Oaklands Road
Lowton
Nr. Warrington
WA3 2LA
Contact
Telephone: 01942 262636
Email:
[email protected]
Opening Times
Monday - Friday: 9am to 4pm