Lowton
Lowton Community Outlet is situated at the heart of the village to the rear of Lowton Social Club and next door to Rowlands Pharmacy.
A place of hope for those who are experiencing financial crisis, our outlet empowers local families to buy clothing, toys, furniture and other household necessities at significantly reduced prices.
"My vision has always been that people on low incomes can come to our outlet and buy what they need to clothe their families – often for pennies – and to furnish their homes without tipping into further financial struggle," said our CEO Pam Gilligan.
"Many of our customers have been priced out of traditional charity shops, who are increasingly charging excessive amounts of money for the most basic items.
'Thanks to the continued generosity of our amazing local community, our outlet gives people who are in true need an alternative option so they can take their first steps towards independent living."
What can I expect to find?
Accessed via two shop fronts, Lowton Community Outlet is divided into clothing, accessories and toys and, separately, furniture and household items.
You will be warmly greeted by our Community Outlet Manager Sarah Barrington and her colleague Kasia Symoczko (pictured), whose role is to serve customers and receive donations.
All clothes are presented in good, clean usable condition – having been freshly laundered on site. Toys, furniture and household items are also sold in good working order – having been carefully inspected for breakages and other damage.
What is your pricing policy?
We charge a nominal fee for our items which, in some cases, can be pennies rather than pounds.
Individuals and families who are in crisis may be eligible to receive items free of charge. This decision involves an official referral from our partner agencies and is based on need – not want – so that our most vulnerable community members are always prioritised for support.
Can I get a refund?
No refunds are provided. We operate on an exchange-only basis.
Please note, there is no changing room on site and customers are encouraged to inspect all purchases before leaving the premises.
When is the outlet open?
The outlet is open Monday to Friday from 9.30am to 4pm (except on Bank Holidays). Saturday drop-offs and collections are available by special arrangement only.
Please do not leave donations in front of the outlet when it is closed. This will be treated as fly-tipping and is a punishable offence.
Is there any free car parking nearby?
A large car park is situated next to the outlet and no payment is required.
If you are dropping off a donation, you may also park directly in front of the outlet.
What is your donation policy?
Compassion in Action warmly welcomes donations of the following items:
Clothing for babies, children and adults
Shoes, handbags and other accessories
Toys, books and board games
Soft furnishings including cushions, curtains and bedding
Ornaments and decorative items (bric-a-brac)
Furniture including dining tables and chairs, sofas, coffee tables, cabinets and mirrors
Donations are welcomed all year round during regular opening hours – in particular, children's clothes aged 12 months to 11 years-plus.
Easter and Christmas are peak times of need in our community, so donations are especially welcomed then.
If your item is particularly large or bulky, please telephone our reception at Patrick House on 01942 418830 to arrange a drop-off date and time in advance.
Before making a donation, please ensure each item:
Is in good, clean condition or full working order. Items that are soiled, torn, ripped, cracked, scratched or fire/water damaged will not be accepted
Is complete, with no pieces missing – especially toys, games and puzzles – or comes as part of a set (for example, cups, glasses, plates etc.)
Carries a fire label if it is upholstered or leather furniture, a mattress, divan or bed base
Unfortunately, we are not able to accept donations of the following items:
Electrical goods
Used cosmetics, perfumes or personal hygiene products
Any furniture that requires repair or restoration
Exceptionally tall or heavy pieces of furniture that are especially or unusually difficult to lift and manoeuvre
Your generosity is always sincerely appreciated, but please note that if your item is rejected for any of the reasons stated above, there is a legal or practical reason for doing so. Every decision as to whether to accept a donation is made with the needs and best interests of our vulnerable community members firmly in mind.
Code of Conduct
Our staff and volunteers are highly valued members of our team, who are playing an active role in supporting vulnerable local people.
Displays of aggression (verbal or physical) and all types of abuse are not permitted or tolerated at our outlet.
You may be asked to leave our premises, or forbidden from returning, if you are in breach of this Code of Conduct.
I have another question. How can I get in touch?
You are welcome to call into our outlet in person or telephone our charity's headquarters on 01942 418830 during regular working hours.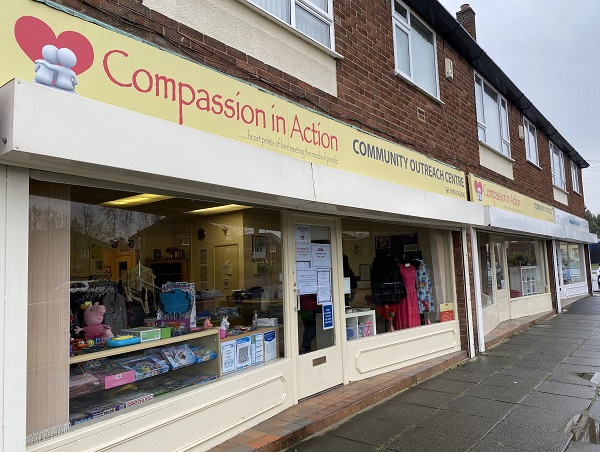 How to Find Us
Address
9 & 17 Oaklands Road
Lowton
Nr. Warrington
WA3 2LA
Contact
Telephone: 01942 262636
Email:
[email protected]
Opening Times
Monday - Friday: 9am to 4pm