Finding friendships… Joining forces: Veterans Brunch launches in Leigh
09/10/2015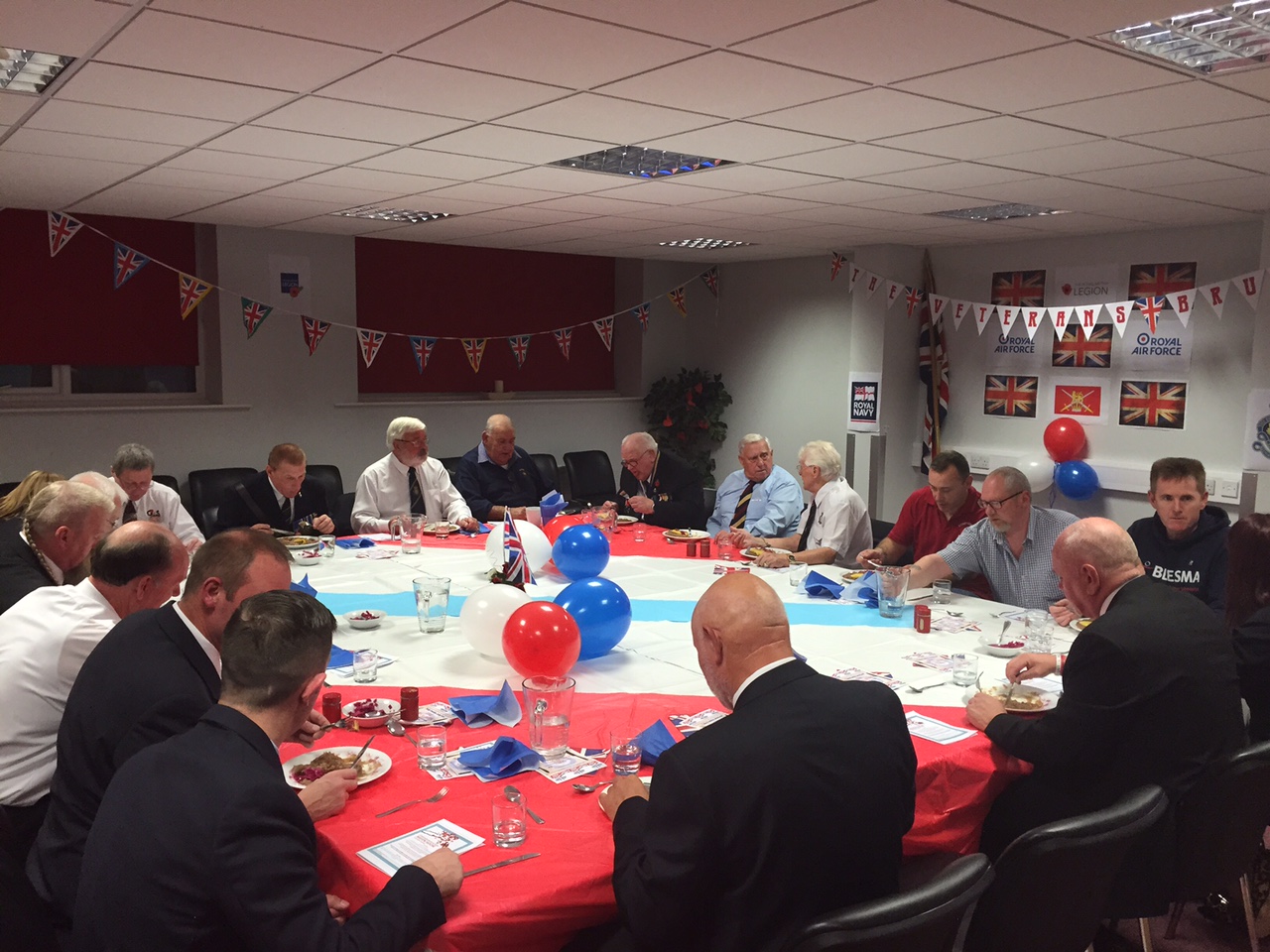 Ex-armed forces and Royal British Legion (RBL) members were welcomed to Patrick House in Leigh on Friday 9 October for the launch of Veterans Brunch – a new friendship group founded by Compassion in Action.
We reached out to Leigh-based veterans who have served all over the world in conflicts from the Second World War to the present day – inviting them to our headquarters for a hotpot supper.
"Finding friendships… joining forces: that's the aim of our Veterans Brunch," says Pam Gilligan, our Chief Executive Officer.
"Once a week we will be welcoming ex-armed forces members to join us at Patrick House for brunch and to socialise with other veterans. This group is for servicemen and women who may feel lonely or forgotten by the very community they have served. It's a place of warmth, friendship and understanding for our local heroes who, as a charity, we have so much respect for.
'I would especially like to thank Linda Fisher, Lead Officer at Wigan Council, and Compassion in Action's Keith Burns, who have worked in partnership to bring together members of the Leigh, Atherton and Tyldesley branches of the RBL and the Royal Air Forces Association. Finally, I'd like to thank our charity's Recovery Academy members, who prepared and served supper to our guests tonight."
Patrick House was decorated in patriotic red, white and blue, with the Standards of each of the local RBL branches being united "for the first time in my lifetime" – as recalled by Leigh resident Keith Stott of the Tyldesley branch's Welfare Committee.
"It's been a terrific success, getting the three branches together," he said. "It's bringing back that sense of comradeship everyone used to enjoy. You can come to the Veterans Brunch for a brew and a chat; have an enjoyable time; and – if you need help – get the right contact numbers for groups to speak to."
Bob Watson of the Leigh branch hopes it will help veterans to see what the RBL can do for them – everything from access to help with housing and benefits, to work opportunities and a social life.
"The Veteran Brunch is a cracking idea and exactly what we need to be doing – drawing ex-service members into places like this," he said. "A lot of veterans have, in the past, felt let down by their communities and the council. It's great to see things turning round. We hope it will lead us to welcoming new members at our 180 Club on Railway Road."
Atherton RBL branch member Roland Lawton praised the support the branch receives from the Royal Naval Association, and our "excellent facility" on Leigh Road.
"The problems facing people coming out of service now after combat tours are quite serious… homelessness, financial hardship and Post Traumatic Stress Disorder," he added. "Their families are suffering too. Anywhere that can assist ex-servicemen and women through what is a difficult transition by directing them to help and benefits is a good thing."
The next Veterans Brunch will be held on Thursday, 22 October. Food and drinks will be served at Patrick House from 11am 'till 1pm.
For any enquiries about the Veterans Brunch, please telephone 01942 418830.