Compassion in Action donates food to Elmridge Court residents
29/09/2022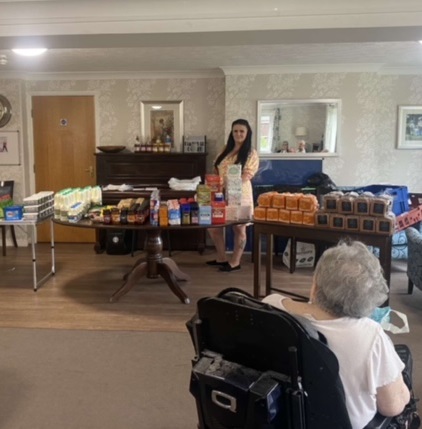 A Queen's award-winning charity is donating food to older residents of Elmridge Court in Lowton, who are feeling the effects of the cost of living crisis.
Leigh-based Compassion in Action (CIA) is working with Anchor, England's largest not-for-profit provider of care and housing for people in later life, to provide a weekly shop at one of their extra care retirement schemes in the Wigan Borough.
Residents at Elmridge Court on Robson Way can now stock up on food, personal care items and household essentials free of charge.
"We are doing everything we can to support residents amid rising food costs," explained Jen Carter, Scheme Manager for Elmridge Court. "We are working with a number of different organisations and are grateful to Compassion in Action, whose generous food donations ensure our residents can have healthy, nutritious meals and also socialise – something that is crucial to maintain their wellbeing. We also have our Be Wise scheme, which we are referring our residents to, to ensure they can claim the benefits they are entitled to."
Residents were consulted on what items they would like to see in the shop, and their suggestions have been catered for.
"CIA have sourced low-sugar jams, jellies and sweets for those who have diabetes," added Jen. "Fruit was another request, which the charity has accommodated – alongside staples such as tea, coffee, bread, kitchen and toilet paper, cereals and toothpaste."
This latest package of support is a continuation of the charity's long-standing relationship with Elmridge Court, which deepened during the pandemic. Pam Gilligan, who is the CEO of CIA, provided materials to staff at Elmridge Court to support wellbeing activities for residents at a time of prolonged isolation. Her team also sent over food parcels and Easter eggs.
"I have known Pam ever since she set up a community outlet at our scheme back in 2013," said Jen. "Every time I have ever needed something, I have emailed Pam and she has responded straight away. She is an absolute treasure within our community and I am so proud of the work we are doing with the shop."
In 2014, CIA won The Queen's Award for Voluntary Services, which is an MBE for volunteer groups. The charity was among a select number of 'outstanding organisations from across the country and the Commonwealth' to appear in Her Majesty The Queen: The Official Platinum Jubilee Pageant Commemorative Album.
"We are bracing ourselves for a difficult winter, as the effects of rising food and fuel costs continue to devastate Wigan Borough's most vulnerable residents," said Pam.
"We are also committed to working with our partners and commissioners to find compassionate, practical ways to help those who are experiencing financial hardship for the first time. I would, therefore, like to extend our heartfelt thanks to Anchor for welcoming our presence at Elmridge Court."