'The Land Girls Parachute in to Patrick House'
06/07/2015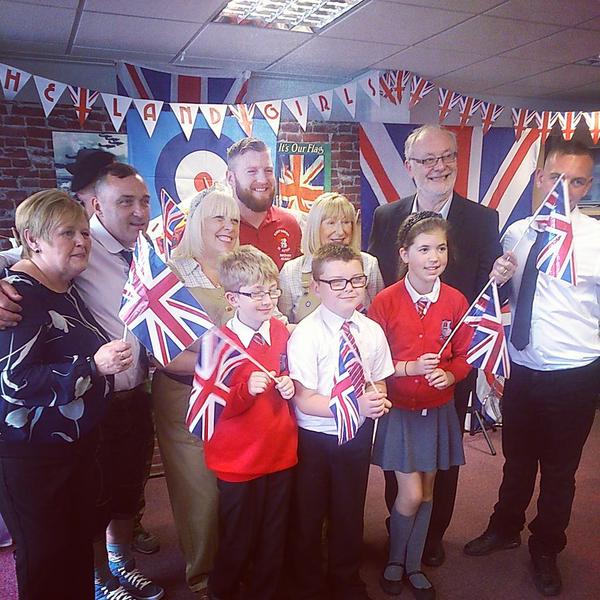 A SEA of Union Jack-waving guests greeted The Land Girls on Monday when they parachuted into local charity Compassion in Action's (CIA) Leigh headquarters – Patrick House on Leigh Road – with their fabulous war years' vintage show.
The formerly derelict site – now a vibrant centre for the community and wider borough, third sector partners and healthcare providers – hosted the award-winning female vocalists, who dazzled the charity's residents and more than 100 local pensioners with an afternoon of free entertainment.
Hang out Your Washing on the Siegfried Line and We'll Meet Again were particular singalong war years' favourites, while 'rations' of pudding and sandwiches were handed out by CIA's Recovery Academy Workers.
"It was a pleasure to hear the hits of the day by Dame Vera Lynn, Glenn Miller and The Andrews Sisters," says Pam Gilligan, the charity's Chief Executive, who was awarded the Queen's Award for Voluntary Service in 2014.
"We'd like to thank The Land Girls for putting on an afternoon of first-class entertainment; they got a standing ovation at the end! I am particularly proud of our residents and my team of staff and volunteers who worked hard behind the scenes to dress the room, prepare and serve food from our Community Café kitchen, and to ensure all our guests had a good time."
During the intermission, pupils from Golborne All Saints Catholic Primary School read out wartime poems they had written especially for the occasion. Special guest Councillor Keith Cunliffe presented them with tokens of the charity's thanks.
With plenty of laughs, anecdotes and light-hearted banter, the 1940s Second World War-themed tribute show also raised funds for present-day services' charities.
"Our clients experience crisis for many reasons: family breakdown, substance misuse, alcohol and gambling addiction, domestic violence and poverty. Our aim is to support them though that period of immediate crisis, and to help people to live independently from total dependency," adds Pam.
'Many ex-servicemen and women experience crisis too, and I'd like to thank everyone who contributed to the charities that support them at our event today."
The Women's Land Army (WLA) was a British civilian organisation created during the First and Second World Wars to work in farming – replacing men called up to the military. Women who worked for the WLA were commonly known as 'Land Girls'.
The Land Girls' visit to Patrick House is one of a series of public events on the charity's calendar. Please telephone 01942 418830 or call in at Patrick House, 58 Leigh Road, Leigh WN7 1QR for details of the charity's September Ball.