Stylish patron organises sell-out charity fashion show
28/09/2016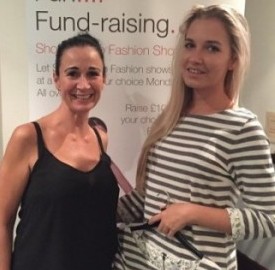 Our style-conscious new patron Leanne Rhead raised over £600 for Compassion in Action, hosting a sell-out fashion show.
More than 100 bargain hunters turned out to the event at The Beeches in Standish, which saw models parading the autumn and winter 2016 collections of leading High Street stores.
The money from ticket sales and the raffle will be added to a further £900 in sponsorship money Leanne and six of her close family and friends raised after completing the gruelling 11.1 mile Tough Mudder course at Cholmondeley Castle on 10 September.
"My younger brother Jonathan tragically took his life last Christmas," says Standish mum-of-one Leanne, aged 39.  "While I was coming to terms with his loss I heard about Compassion in Action's new wellbeing centre, Haven House, that supports people struggling with their mental health. I am privileged to now be a patron of the charity, which is close to my heart.
'I would like to thank all my family and friends, and everyone who sponsored us for Tough Mudder or who attended the fashion show, for your amazing support. Together, we have raised more than £1,500, which will help the charity to continue to meet the needs of people who are in crisis."
The fashion show was presented by Atherton-based Shop 2 Drop, who offered generous 50 to 70 percent discounts on all High Street clothing modelled on the night.
It was attended by staff and volunteers from Compassion in Action as well as Recovery Academy members including Keith Burns, who read out a note of thanks from our Chief Executive Officer Pam Gilligan: 'On behalf of all at Compassion in Action we would like to offer our heartfelt thanks to Leanne, our dear patron, for all her fundraising efforts and hard work for the benefit of our charity's project, Haven House.
'Ali and I cannot be with you tonight as we are currently helping vulnerable people through an imminent crisis. Members of our staff team and clients are there with you to represent Compassion in Action on this wonderful occasion'.
Members of Leanne's Tough Mudder team included her cousins Matthew and Emma Carney and Karl Hay, and friends Rob and Ste Walker, and David Leyland. They completed the punishing course in 4 hours, 48 minutes and 54 seconds.
If you have been inspired by Leanne to raise funds for Compassion in Action, please telephone 01942 418830 to discuss how we can support you to do so.