Stars of the Community!
06/02/2017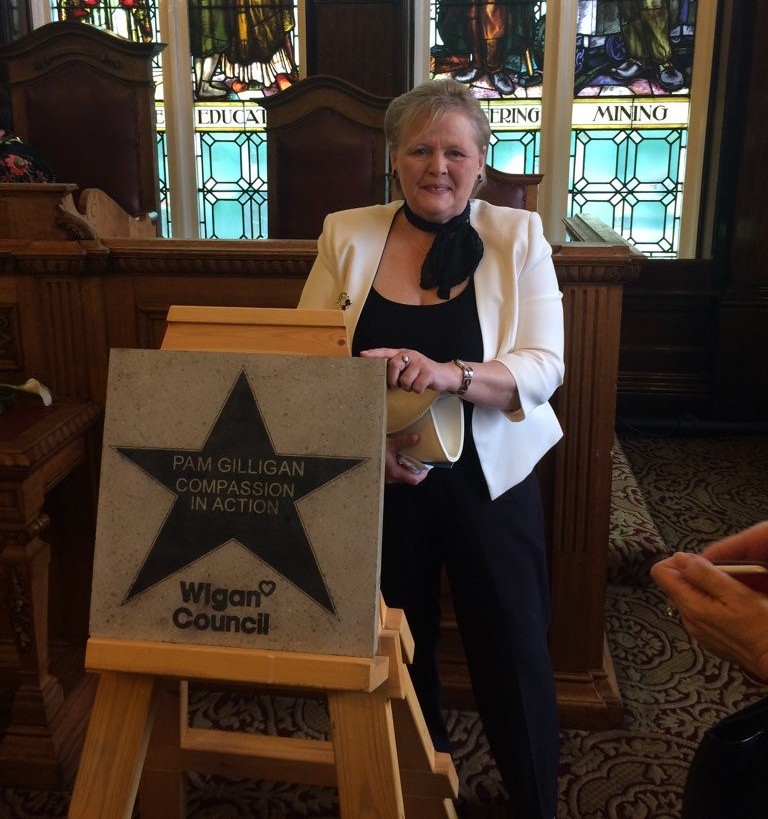 TWO stars of the community have been honoured with a permanent tribute at Leigh Town Hall.
Inspired by the Hollywood Walk of Fame, Compassion in Action Founder and Chief Executive Pam Gilligan and Trevor Barton MBE, Founder of Trust in Leigh; have had their names engraved in stone stars that now form part of the floor outside the town hall in Civic Square.
The ceremony took place at Leigh Town Hall on Monday 6th February were both Pam and Trevor were recognised for their valued hard work, dedication and commitment to both their charities and the local community.
Lord Peter Smith, leader of the council, said: "Over the years we have honoured local people with their own stars either in Believe Square in Wigan or Civic Square in Leigh to show our appreciation for what they have brought to our borough.
"Trevor and Pam consistently show pride in our borough and in the process have helped to transform so many people's lives for the better.
"The stars in Civic Square highlight their amazing work, and as a proud Leyther myself I am especially excited to celebrate the successful work that has come out of the town."
Founder of Trust in Leigh Trevor, said: "I am honoured and extremely thankful to Wigan Council for acknowledging our hard work in this way."
Pam, chief executive and founder of Compassion in Action, added: "It is an honour to receive this recognition."
Leigh MP Andy Burnham and the High Sheriff of Greater Manchester Lady Joy Smith also attended the event.