A shining example: Regency Glass awards key catering contract to local charity
09/08/2019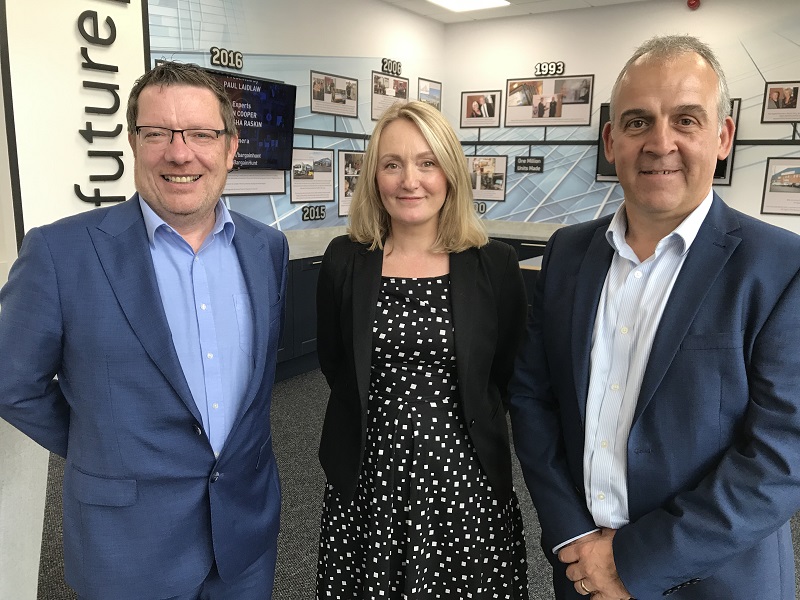 THE staff canteen located inside Regency Glass' new factory has been named PG's Diner in honour of Pam Gilligan, our Chief Executive Officer.
We have also been commissioned to provide on-site catering at the former BICC building – located on Bridgewater Business Park in Leigh.
"In these times of austerity, Regency Glass are a shining example of how businesses can work positively with charities to help meet the needs of people in crisis," said Pam, who welcomed Leigh MP Jo Platt to the diner during a recent tour of the factory.
"Directors Darren Beazant and Wayne Fitzmartin could have awarded the contract to any number of private catering firms. Not only did they put their faith in our abilities, they also went the extra mile – pledging to reinvest all profits from the diner back into our charitable work. Together, we will achieve so much for the good of Leigh."
PG's Diner is the third premises in our growing portfolio of catering outlets. Others include our Patrick House headquarters, as well as the on-site café at North West Boroughs Healthcare's new mental health hospital, Atherleigh Park.
All three sites have been awarded excellent ratings under Environmental Health's Food Hygiene Scheme and make use of local produce such as sausages from Yates Greer.
CIA's Catering Manager Alison Prescott said: "Regency Glass outgrew their old premises on Butts Street and could easily have moved outside of Leigh, but Darren fought hard to keep his business local.
'We are overwhelmed by how much they have invested in our charity over the years and incredibly thankful for this latest opportunity. We love rising to the challenge of catering for a leading UK manufacturer that operates 24 hours a day!"
Jo Platt MP was escorted on her visit by Darren and his children Bradley and Natalie Beazant – Facilities Manager and Sales Supervisor at the plant respectively. She praised the enterprise for "leading the way" – adding: "It is fantastic to see first-hand what can be achieved in our borough when people are open to new ways of working.
'Regency Glass are contributing to the circle of life within our community by helping people who have come through the charity to get back into work. By choosing to use their purchasing power to award a key contract to CIA, they have empowered the charity to do more social good."
Regency Glass purchased the BICC building in December 2017 – embarking upon a complete internal and external refurbishment with the support of Leigh-based contractors including Patrick Contract Joinery Ltd, steel fabricators Sleigh Ltd and electrical contractor First 4 Electrical.
Considered to be one of the most modern plants in the UK, the 100,000sqft premises officially opened in May this year – providing employment to more than 100 people.
"It would have hurt us to go outside the postcode of Leigh," said Darren – revealing that after five years of negotiations, the site was "days away" from becoming a housing estate before he finally secured the building.
"The workforce at Regency creates a very special team and we wanted our next factory to be as local as possible. Compassion in Action is a charity that also believes in putting people in our community first, so we are united in our values.
'We named our canteen PG's Diner in honour of Pam, who has done so much for Leigh over the years. The service from her team has been superb and we are excited to continue developing the offering in new directions."