Leigh's Very Own 'Righteous Brothers': Charity Patrons Honoured with Civic Reception
20/05/2016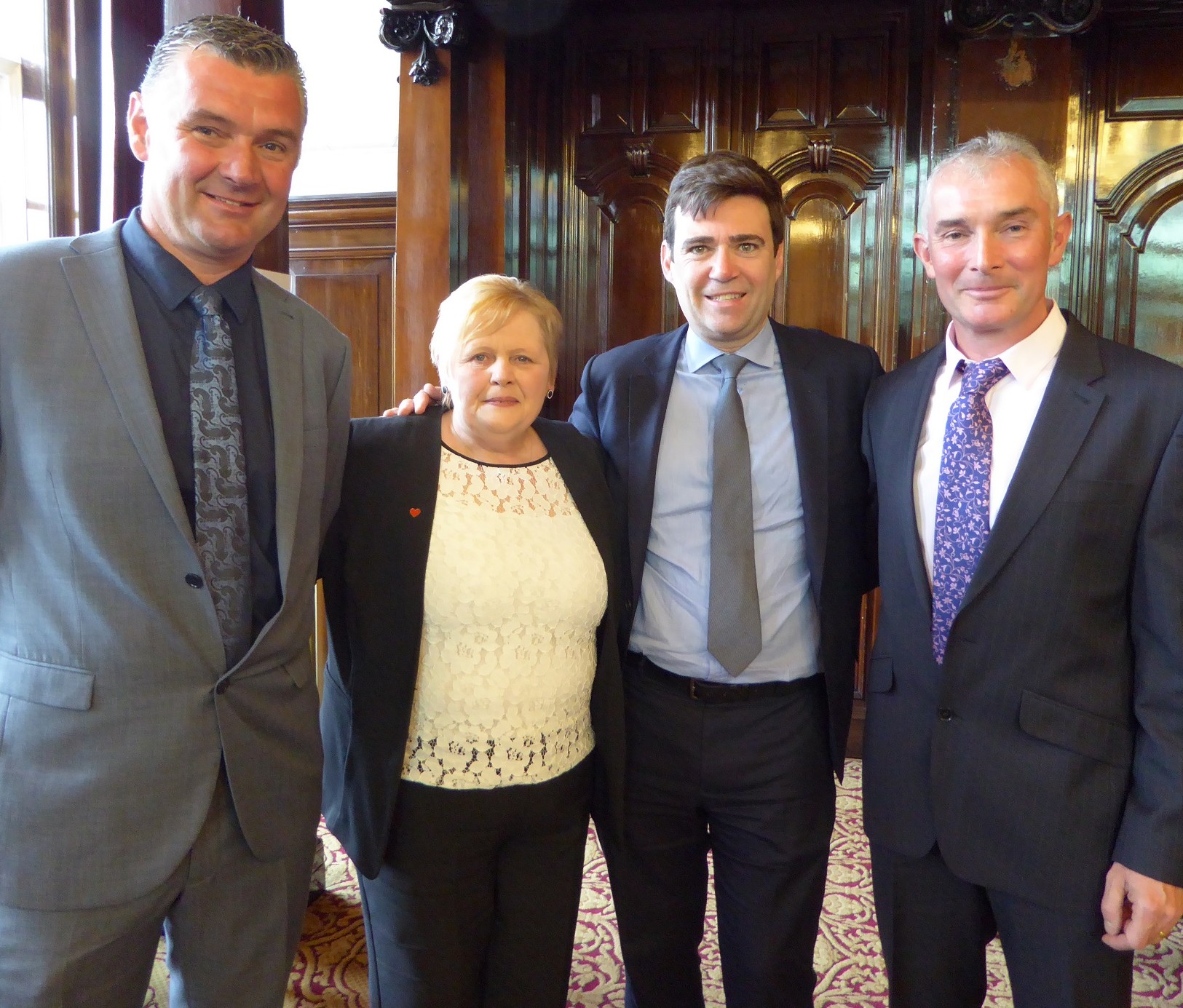 TWO big-hearted brothers from Leigh who have financed and built multi-million-pound accommodation for local people in crisis have been nominated for an All-Party Parliamentary Corporate Social Responsibility Group Award.
The announcement was made by Andy Burnham MP at Leigh Town Hall on Friday evening at our special reception – held in honour of David and John Patrick, Directors at Patrick Joinery Ltd – and attended by Lady Joy Smith, the High Sheriff of Greater Manchester.
Having purchased Boardman House (the former tax office on Leigh Road) in 2011, the brothers worked with us to transform it into a residential and community hub (named 'Patrick House') at their own expense. They then built a neighbouring well-being centre, Haven House, as well as Duva Mews (a row of smart new houses for people with learning disabilities), which opened this year.
"None of us can be sure what life will throw at us," said Greater Manchester Mayoral candidate Mr Burnham. "You need a place like Compassion in Action, which – in a non-judgemental way – helps people who have experienced crisis to put the pieces of their lives back together and move on to the next phase.
'I am the luckiest person in Parliament to represent a town like Leigh, where people don't just see success as a means of escape; they use success to give back to others. David and John, I know you do not do what you do to seek praise, but there comes a moment where you deserve recognition.
'I represent the people when I say we are deeply proud and grateful, not just for the financial investment you have made, but also for the personal and emotional commitment you and your families have shown. The level at which CIA is operating is thanks to you; it is changing peoples' lives fundamentally. Leigh is the most giving place – and long may it be so!"
Our tearful Chief Executive Officer, Pam Gilligan, added her personal thanks to the 'utterly remarkable' Patrick Brothers, who were born and raised in Tyldesley and attended Fred Longworth High School.
"David and John's belief, dedication and hard work turned a once derelict building into a first-class facility, with accommodation for our Recovery Academy residents, a community café, function room and offices," she said.
"They have since expanded the beautifully-renovated site further for us – resulting in a community village and mental well-being suite, which the whole town is proud to see. We are honoured to have them as valued patrons of our charity."
She also praised other local contractors who had generously donated time and materials to support the ground-breaking build, including Regency Glass, SP Smith Electrical Contractors, Collins Building Solutions, Lakes Plumbing and Heating, and SLD Roofing.
Residents of our Recovery Academy and Duva Mews told the Patrick Brothers how profoundly their generosity had affected their lives. "I don't want to go back to the past," said Patrick House resident Neil, "I have hope for my future."
John, aged 48, of Atherton and David, aged 45, of Green Lane, started their property empire in 1992. They first met Pam nine years later – beginning their long-running association with our charity.
"We'd like to thank both our families – especially my wife, Rhona, and John's wife, Michelle," said David. "There's been a lot of late nights and weekends! We feel nothing but proud of what we have built but we are blown away with what Compassion in Action has done for the people in the buildings. We've gotten to know the lads, who always greet us with a smile and are courteous. They've made the flats their own."
The reception concluded with a special buffet for 30 guests – prepared by residents of Patrick House.