Leigh Veteran Receives War Medals After 75-Year Wait
14/05/2016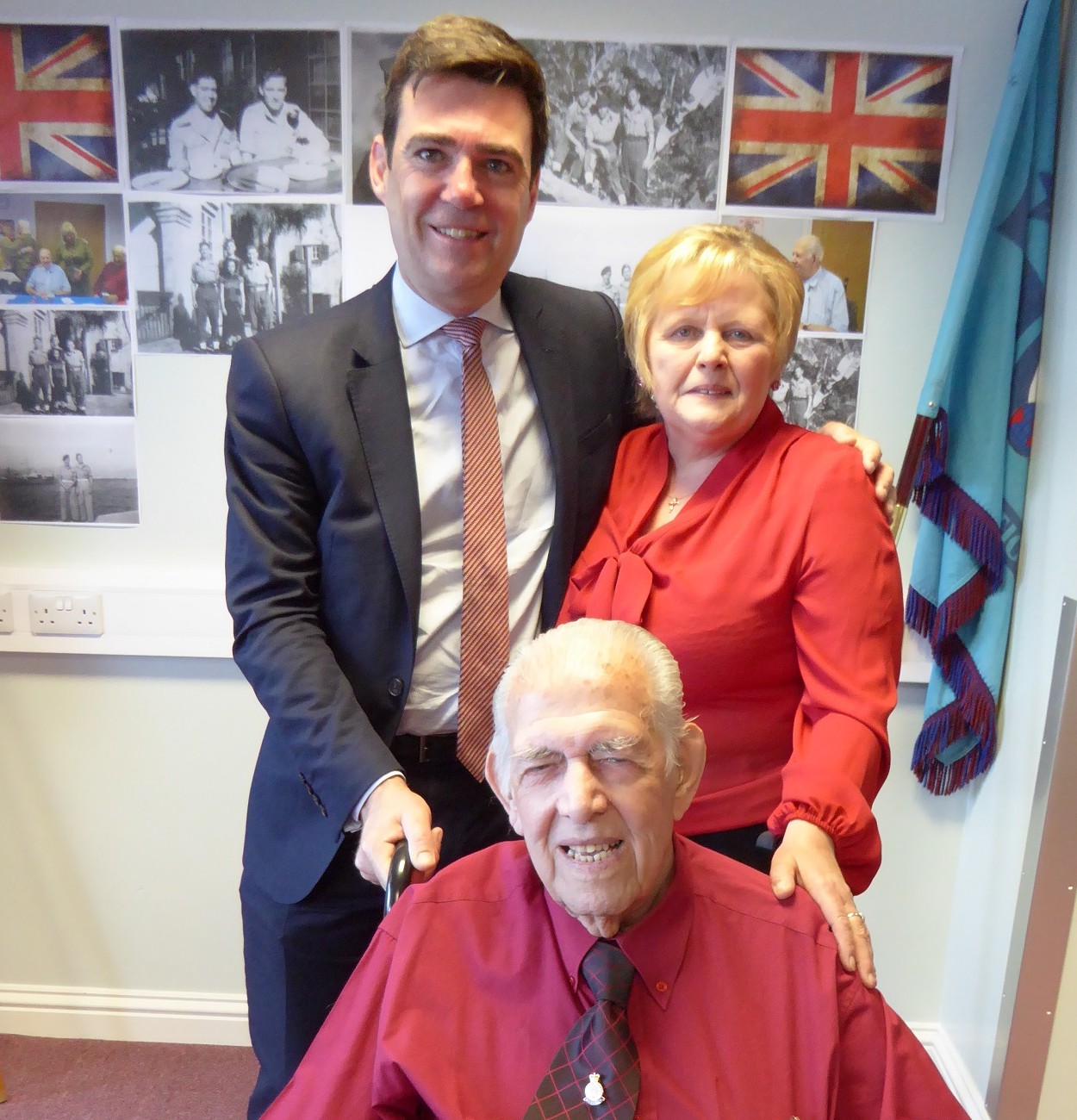 HIS luck held out at D-Day and Hiroshima – and now, 75 years after signing up for the Royal Marines on Friday the 13th of August 1942, West Leigh veteran Ken Preter finally received his service medals at a surprise party on Saturday.
The 92-year-old Lime Avenue grandfather was greeted at Patrick House by a Guard of Honour comprising local veterans and also by dignitaries Andy Burnham MP; the High Sheriff of Greater Manchester, Lady Joy Smith DL; the Mayor of Wigan, Councillor Susan Loudon; and the Leader of the Council, Lord Peter Smith.
"Mr Preter began attending our weekly veterans' brunch late last year," says Pam Gilligan, our Chief Executive Officer. "He told us that he had never received his service medals which, frankly speaking, is just not right.
'It's been our very great pleasure to work with Keith Stott from the Tyldesley branch of the Royal British Legion (RBL), who is officiating today, and Andy Burnham's office to apply for them on Mr Preter's behalf; to obtain his signature on the relevant form; and then arrange this surprise party. He did his service for King and Country, and came home safe; we are honoured to thank him and recognise his contribution to the war effort."
Mr Preter was anticipating a small service attended only by close family members – including his son Kenneth Holman, aged 73, who had travelled from Colwyn Bay with his partner Evelyn Leyland, aged 69, and friend Mary Benjamin of Leigh Road, Atherton.
"He has not told me much about his service," said Kenneth. "Perhaps there are reasons for that. He has been all around the world and thoroughly deserves this recognition. He does not suspect anything about today's surprise; I hope he has a strong heart!"
Shadow Home Secretary Mr Burnham had the 'tremendously proud' honour of pinning the 1939-45 War Medal and Defence Medal to Mr Preter's smart shirt in a ceremony attended by more than 50 people – including members of the Royal Naval Association of Atherton; Bob Watson, Chairman of the Leigh branch of the RBL; members of Tyldesley RLB; the Royal Airforce Association; Madam Mayor's Cadets; and Troopers from Wigan (Duke of Lancaster's Own Yeomanry) Queen's Own Yeomanry, B Squadron.
"Our generation should not forget the contribution made by Ken and all the servicemen and women who sacrificed so much, but with a purpose: to bring us peace in Europe for 70 years and prosperity for generations to come," said Mr Burnham.
Paying tribute to Pam and our veteran's brunch, he also praised the Council's veterans' hub. "Leigh, Atherton, Wigan and Tyldesley were huge recruiting areas – and it is only right that our veterans are properly supported," he added.
Representing the Lord Lieutenant and Her Majesty The Queen, the High Sheriff of Greater Manchester spoke of her pride at returning to her home borough for the occasion – remarking that, as a former Geography teacher, she was 'stunned' by Mr Preter's service history, which spans from the Arctic to the Tropics.
"In spite of the appallingness [sic] of the war, my father travelled in a way he never would have done," she said. "It improved his generation's understanding of the world at large, of the value of community and of different cultures. We now know where we fit into a wider, bigger, peaceful world and we have our veterans to thank for that."
Tucking into a special celebratory cake which we commissioned, Mr Preter explained he was enlisted in the Marines aged 18 and trained in Scotland for D-Day. While waiting to board a landing craft bound for France in Falmouth Harbour, he was dramatically diverted back to Wales. His luck held a second time when, having trained in the Australian Bush to serve in Japan, an atomic bomb was dropped on Hiroshima – paving the way for VJ Day.
Following the war, he worked for more than 30 years as a cable layer for what was then known as the North West Electricity Board.
"What I remember most about my time in the war is the friendships I made," he says. "Now I have made another group of friends at the veterans' brunch, which I look forward to every week. I never expected anything like this today. It's been a great day and I want to thank everyone who set it up – and my family and friends."
Our veterans' brunch meets every Thursday at Patrick House on Leigh Road, from 11am to 1pm. For further details, telephone 01942 418830.