Festive feast served to Leigh veterans by Compassion in Action
18/12/2015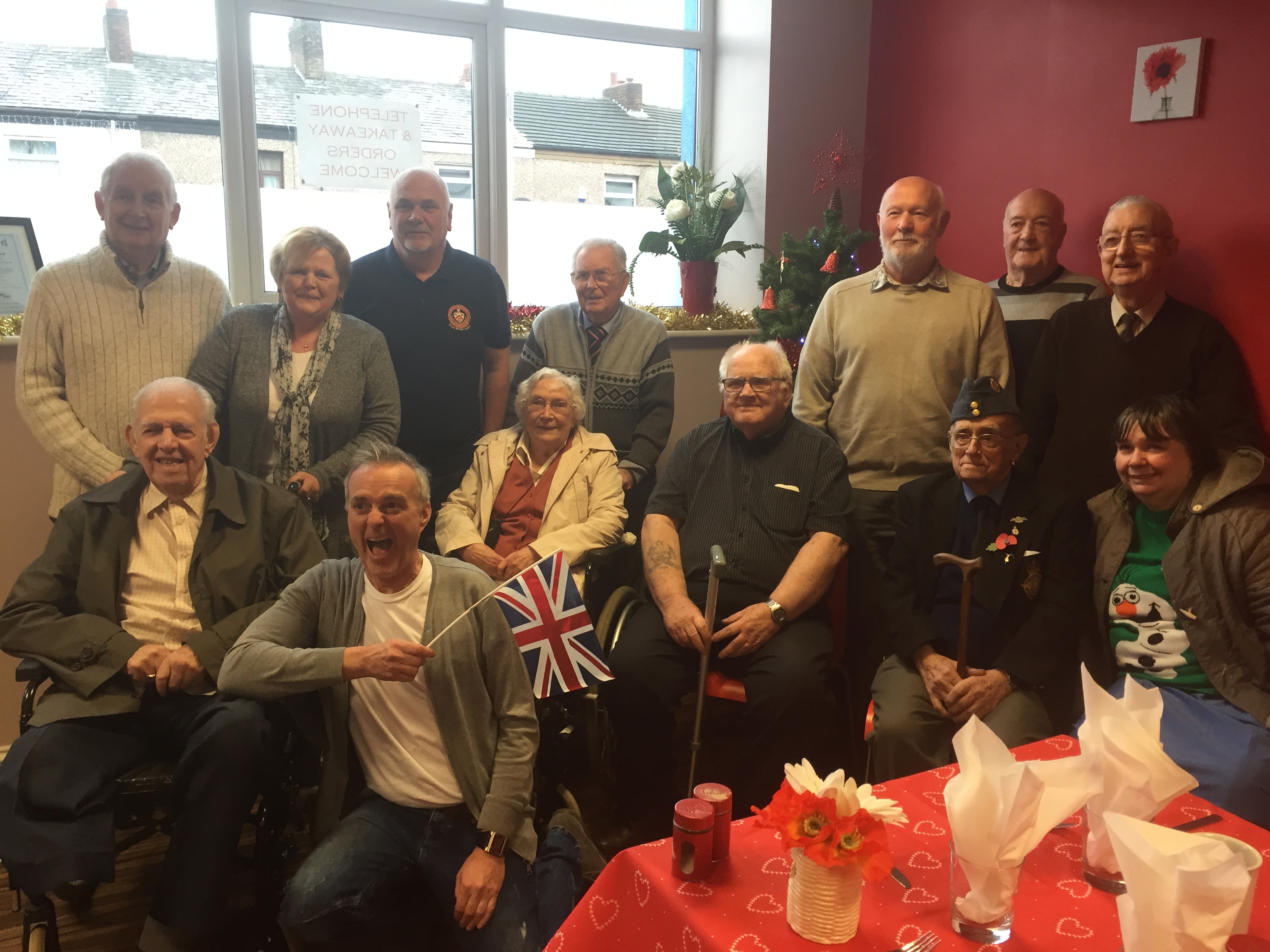 We are proud to have honoured veterans of conflicts from the Second World War to the present day with a special Christmas brunch on Thursday 17 December.
Members of our Recovery Academy prepared and served a festive feast to special guests from the Leigh, Atherton and Tyldesley branches of The Royal British Legion (RBL) and the Royal Airforce Association at Patrick House on Leigh Road.
"Our Veterans' Brunch has been a fantastic success – continuing to meet weekly since it was first launched in October with the support of Wigan Borough Council," says Pam Gilligan, our Chief Executive Officer.
"It has been our pleasure to see new friendships formed among in this close-knit, warm and welcoming group, and to facilitate the exchange of information and support through partnership-working.
'The Veterans' Christmas Brunch was another welcome opportunity to show our continuing appreciation to our local ex-forces community, who have served us so heroically. We look forward to building on the foundations of friendship that have been laid over the past few months as we head into 2016."
The newest guest to join the group is 92-year-old Royal Marine Ken Preter of West Leigh. He signed up to the forces on Friday, 13 August 1942 and trained for D-Day – only to be reassigned the night before. His luck held out when a perilous mission to Japan was diverted after the atomic bomb was dropped on Hiroshima.
"They told us at the end of the war we had earned the Atlantic Star, the Pacific Star, the 1943-45 Campaign Medal and also the Defence Medal, but that we would have to send up for them ourselves," recalls Ken. "There was uproar among the lads and half of us said that, after risking our lives for four years, we didn't want them if they couldn't present them to us.
'I told this story to Keith Stott from the RBL's Tyldesley branch on my first visit to the brunch last week, and he has already sent up for my medals for me! I will finally get them next year – 71 years after I earned them!"
The story illustrates how critical the brunch is fast-becoming; an opportunity for veterans to receive the support they need. "We'd like to thank Compassion in Action for providing a meeting place where veterans can meet on a regular basis," says Keith.
"At a time when there are no longer British Legion Clubs, the brunch is fulfilling the four pillars of the charity, which include comradeship, representation for the services community and remembrance."
Leigh veteran Tom Houston, aged 38, is the youngest member of the group. He saw action in conflicts across the globe during his service with the Fusiliers. He has been attending the brunch weekly since it began.
"It's nice to feel secure in an area – even just for a few hours," he said. "The staff are always helpful. To any ex-services people out there, I'd say: 'Come and give it a go'. Enjoy the good old squaddie banter. You can have a free meal, a chat and a laugh. Sometimes, that's just what you need."
Atherton RBL branch member Roland Lawton adds: "The news is spreading. There are faces here today that I have not seen before. The more veterans we reach out to, the better. It's important for others to realise there are people in the same situation as them.
'As we go into 2016, I hope to see more of the younger veterans coming along. They have many more problems than I had when I left the forces. The brunch is an important step on the way to managing those, as it's a place of support, friendship and information."
The next Veterans' Brunch will be held on Christmas Eve – Thursday, 24 December. Food and drinks will be served at Patrick House from 11am until 1pm.
Following that, the next meeting will be on Thursday, 7 January 2016.
For any enquiries about the Veterans' Brunch, please telephone 01942 418830.