Family tragedy inspires new charity patron
10/06/2016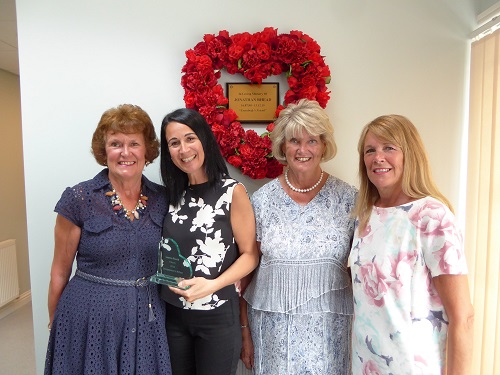 A Standish mum-of-one has become the latest Patron of our Leigh-based charity Compassion in Action (CIA) following the tragic death of her brother who she described as "everyone's friend".
Jonathan Rhead had been living with Bi-Polar Disorder for a decade when he took his own life in December last year, aged just 35. His grieving sister Leanne, aged 39, said that he had a massive personality, was the life and soul of the party and was full of fun.
Standish-born Jonathan's ill health is thought to have been triggered by the death of a close friend. He sought help and managed his condition successfully for many years while living and working in the Middle and Far East. However, when he stopped taking his medication because he felt ok, he became unwell again and was diagnosed with Schizophrenia.
Jonathan was hospitalised in November 2014 for eight months and then moved into sheltered accommodation in July 2015. He took his own life five months later.
"While I was coming to terms with the loss of my brother, I heard about Compassion in Action's new wellbeing centre that supports people struggling with their mental health," Leanne, pictured second from left above, said. "I arranged to visit Pam Gilligan, CEO and founder of the charity. I loved CIA as soon as I walked through the door. I feel proud to be Patron and I am looking forward to fundraising events."
Leanne's first fundraiser for our charity will be the gruelling race 'Tough Mudder', which she is participating in along with her family and friends. "I only have three months to train, but I am looking forward to the challenge," she said.
Leanne is also organising a fashion show this September in aid of our charity, and stated that she is feeling positive that something good can come from the family's devastating experience: "My hope is that it will raise awareness and other families will not have to experience the trauma we have been through."
'Haven House' opened in January 2016 and has supported 95 people who were in need of emotional support to prevent possible crisis.
"Our vision is to provide a safe, non-clinical and relaxing environment," explains Pam. "Our aim is to prevent crisis, stabilise emotional health and empower individuals to achieve their goals. We work creatively, flexibly and inclusively to improve mental health in the very heart of our community."
To contact our wellbeing centre, located on Leigh Road, Leigh, telephone 01942 418830. Other local mental health services include your GP and 5 Boroughs Partnership NHS Foundation Trust's 24 Hour Assessment Team (01942 482239).