Leigh Centurion Edwin Ipape set to volunteer at Compassion in Action
23/06/2022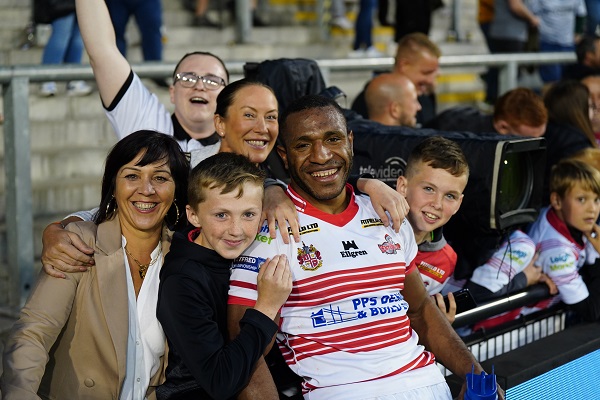 It's less than 24 hours since Leigh Centurions announced they have secured the services of Papua New Guinea international Edwin Ipape on a three-year contract extension until the end of 2025. And yet, today, the humble hooker has already reported in for volunteering duty at local charity Compassion in Action (CIA).
Having been presented with a laptop to help facilitate his studies in Health & Social Care by CIA Board Member The Lady Smith DL (pictured below), Edwin then toured the charity's 24-hour residential facility for people experiencing mental health crisis.
It is here that he will be sitting down to listen to and talk with guests – lending them a compassionate ear.
"I want to grow as a person, that's why I am staying with Leigh (Centurions) and getting involved with Compassion in Action," said Edwin. "I have been through highs and lows in my career, and I am open to sharing those experiences so people who are struggling feel less alone. My message is this: Don't keep things to yourself. I cannot help everyone, but I can help someone – and that is what I am here to do."
With messages of congratulations flooding in from fellow players, friends and family back home on WhatsApp following the news of his contract extension, Edwin is reflective on the upbringing that has made him a community-minded person.
"My parents taught me to give a helping hand to people in need. Our home was always open, with a lot of people in the house, and my parents would give food to them. My thinking is: 'If I can help one person and they go and help others, then I feel like I have done a good thing'.
'When I first arrived in this country, Compassion in Action helped me to settle in well – providing me with things like furniture. I wanted to give back and so, I said to Pam (Gilligan, CEO at CIA): "I'd love to come over, I'll do anything". I don't want to just be the football player on the field. I want to be a good person in the community – helping people out."
Having only arrived in the UK at the start of the year, Edwin said he has been accepted into the Leigh community "with open arms".
"The support on and off the field has been special," he smiled. "I get goosebumps – hearing people calling my name and singing at the stadium. Sometimes, I pinch myself… wondering: 'Is this really happening?' It gives me extra motivation to go out and perform. My goal now is to finish at the top of the Championship ladder with Leigh Centurions and make it into the Super League."