Domestic abuse survivor unites community to support Compassion in Action
03/07/2020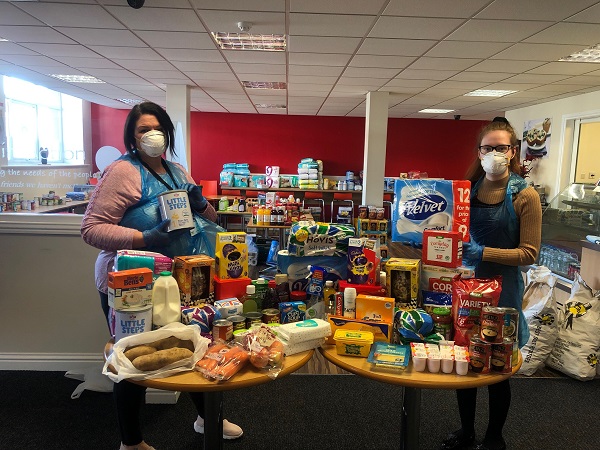 A domestic abuse survivor has been collecting food donations for the Leigh-based charity that helped her to start afresh.
Mum-of-three Sarah, 33, has been supporting Compassion in Action (CIA) to ensure isolated families receive essential items during lockdown.
Our Chief Executive Officer, Pam Gilligan, has praised Sarah for bringing together her neighbourhood to help vulnerable people in need.
"We would like to express our heartfelt thanks to Sarah for her wonderful support," said Pam. "It is the purest definition of 'compassion in action' and a shining example of a family who never forgot the help they received in times of crisis. People like Sarah, and all those who have supported her efforts, help us to help families in need – a community united."
Five years ago, Sarah was in a refuge with her middle child, who was seven months old, and pregnant with her youngest. After she was rehomed by Wigan Council, a support worker at the refuge introduced her to CIA.
"Pam and her team fitted my new home out with furniture – all brand-new – and arranged a food parcel when we moved in," said Sarah. "CIA literally provided everything we needed to feel comfortable, from beds and couches to crockery and cutlery.
'I remember feeling so grateful that our beds were new and still wrapped in plastic. I was so overwhelmed… I couldn't believe that anyone would want to help me so much. The support worker at the refuge was amazing and, along with CIA and a few other charities, helped me to get back on my feet.
'Finding out that Pam and her team were sending out food parcels to isolated families affected by COVID-19 was really inspiring. It took me back to a time when I had nothing, so I wanted to do something to help. If I have given families one less thing to worry about – especially during a global pandemic – then that is all that matters."
Lowton resident Sarah has been co-ordinating food donations from friends who wanted to support her efforts.
"I have also sold some planters on CIA's behalf through adverts and organised raffles on my own Facebook profile page to support the families that Pam and the team look out for," she added. "Prizes have included food and drink deliveries – all carefully organised with the supermarkets so that drop-offs were safe, responsible and socially distanced – and cash. All the proceeds from the raffles have been used to buy food, which I have then donated to CIA."
Looking to the future, Sarah wants to go back into care work. She retook her Maths and English GCSEs earlier this year after a serious car crash prevented her from sitting them as a teenager.
"I would love to do the kind of work Pam does," concluded Sarah. "Once lockdown is over, I will continue to offer as much support to CIA as possible, from regular catch-ups with the team to donating a few extra items I pick up from the supermarket as part of my weekly shop."