Compassion in Action CEO praises 'exceptional' giving for annual Christmas Toy Appeal
16/12/2020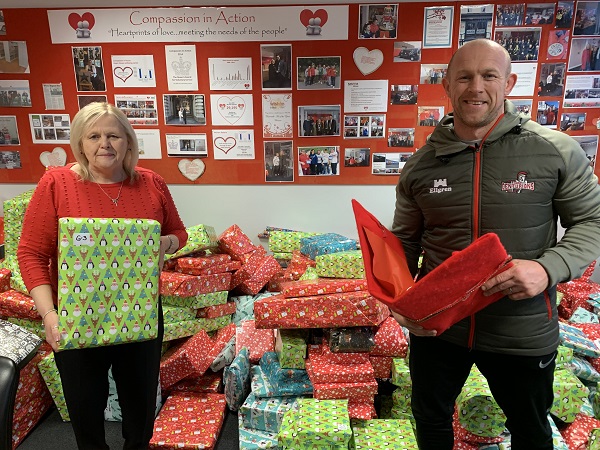 LEIGH'S longest-standing Christmas Toy Appeal has seen an 'exceptional' number of donations this year.
Award-winning charity Compassion in Action (CIA) revealed that – thanks to the united efforts of the local community – more than 600 vulnerable families will receive free food hampers and brand-new toys over the festive season.
Addressing volunteer gift wrappers at CIA's Leigh Road headquarters, CEO Pam Gilligan said: "Eleven years on from our first ever toy appeal, we find ourselves in a pandemic. The vision at Compassion in Action was that no matter what, we were not going to let these families and their children down this Christmas.
'I want to pay tribute to our local community, who have been absolutely amazing. The amount of toy and monetary donations we have received this year has been exceptional, which makes me feel very tearful. From local businesses and beyond, to the residents and organisations of Leigh, we are so blessed by all those who continue to support us."
Two-hundred children have already received their Christmas presents in a coordinated and Covid-secure approach with local schools.
On Christmas Eve, 400-plus families who have also been referred to the charity by local agencies will each receive a turkey dinner, fresh vegetables and all the trimmings, as well as three age-appropriate gifts for every child.
Volunteers from Wigan Council and Tesco were amongst those who attended the charity's first day of socially distanced gift-wrapping, with a special – and unannounced – visit from CIA ambassador and former Leigh Centurion Micky Higham.
Wigan Council employee Janice Fielding has worked within Children and Younger People's Services as a member of Start Well Locality 3 for the past five years. She said: "All council staff members are given three volunteer days per year and are actively encouraged to take them; it's a privilege to use one of mine to be at Patrick House today. It's great to give something back, as I know the families I work with will benefit from these donations."
For further information on how to support CIA's work in the community, telephone 01942 418830.