Community Cadets take part in empowering art project
09/03/2020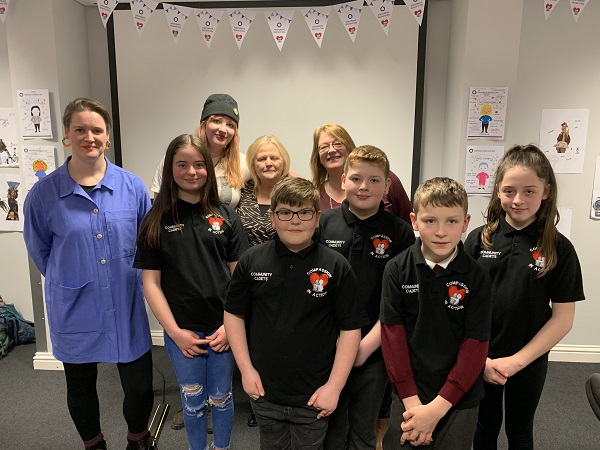 Community Cadets from Leigh have been learning about how Lancashire's historical female political activists were portrayed in the media of their time.
The innovative community art project is led by local artists Helen Mather and Anna FC Smith. It explores how members of the Leigh Female Reform Society in 1819 were called "witches" – repurposing and reclaiming this imagery today.
"Anna and I set out to empower local people – including Leigh's young citizens – with their own history and magical energy," explained Helen, who is originally from Leigh and lived in Thorneycroft.
"We have been made to feel very welcome by Compassion in Action's Community Cadets, who represent a diverse group of very engaged young people. The words and images they have created in response to our work, which references political prints and writing from the time, will be used to help guide others through our exhibition at The Turnpike in Civic Square."
To mark this year's International Women's Day (IWD), special guests including The Lady Smith DL and Cllr Sue Greensmith joined the cadets, their parents and grandparents for a talk by Helen and Anna at the charity's headquarters on Leigh Road.
They heard that the Leigh Female Reform Society campaigned; gave speeches; held meetings; and attended rallies 100 years before The Suffragettes, and that they were politically active in the run-up to the infamous Peterloo Massacre in Manchester and beyond.
The cadets then practised their public speaking skills by reading aloud from The Manchester Female Reformers' Address – printed in the Manchester Observer in July 1819.
"This year, the theme of IWD was 'Balance for Better'," said Paula Richmond, who is seconded by Wigan Council to the Community Cadets. "The learning from Helen and Anna's art project is equally relevant today, as we think about the words we use on social media and in the conversations that we have with each other."
Guests at Patrick House were treated to a Lancashire hot pot supper prepared by the charity's on-site catering team.
Addressing those in attendance, Pam Gilligan – Chief Executive Officer at Compassion in Action (CIA) – said: "Helen and Anne's message is a reminder of the importance of thinking about how we treat others in thought, word and deed. At this time of austerity and pandemic, we need to come together to help our most vulnerable people rather than stockpiling to excess. We need to bring back unity in the community, to share what we have so that everyone's needs can be met."
CIA's Community Cadets scheme is supported by Wigan Council and Greater Manchester Police. The cadets meet at Patrick House every Monday from 6pm to 8pm. For enquiries, telephone 01942 418830.