Christmas Hampers
09/01/2015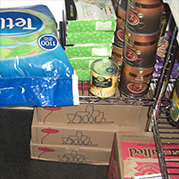 On the 23rd and 24th of December 2014 we delivered 272 Christmas hampers to families in the local area.
We know what a difficult time Christmas can be, particularly for those who are suffering from hardships. Our team have been delivering Christmas hampers for several years to try to ease some of the burdens that Christmas can bring.
Our hampers contain fresh produce and a selection of food, along with cleaning and hygiene essentials, some of which have been donated by our partners and individuals in the community. We would like to thank everyone who has been involved for their contribution.