'Bless 'em All': Land Girls Concert Staged for Leigh's Wartime Veterans
28/04/2016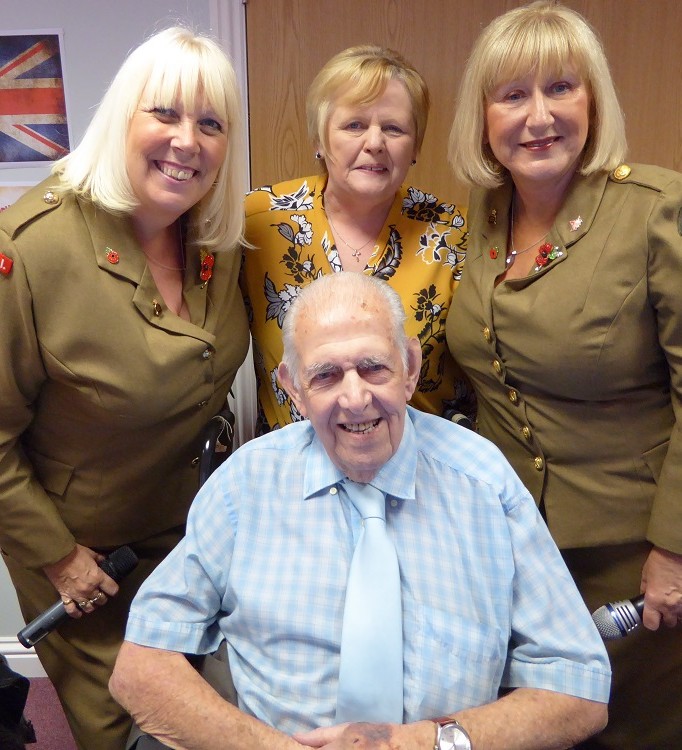 Award-winning vocalists The Land Girls led 70 Leigh-based wartime veterans in a chorus of popular 1940s hits at Patrick House today.
'There'll Always Be an England', 'God Save the Queen' and 'We'll Meet Again' wrapped up the patriotic sell-out three-hour show – staged for care home residents and members of our popular veterans' brunch and lunch clubs.
"Our Recovery Academy members, staff and volunteers are here to help serve you, to welcome you and to love you; thank you for supporting our charity," Pam Gilligan – our Chief Executive Officer – told guests as they sat down to a ration-themed lunch of spam butties, traditional lemonade and trifle in a room festooned with Union Jacks.
Winston Churchill's famous 'We shall fight on the beaches' speech started The Land Girls' 1940s tribute show, which featured more than 30 songs tied together with warmth and wit by best friends Lynsey Davies and Kaz Howell.
"I was only a child when the war broke out," recalled Pennington resident Betty, who was born in 1929. "There was always air raid sirens; they dropped a bomb in Atherton! I came with my friend from the lunch club to last year's show and we're back again to see the girls because they're lovely; it's our era."
Royal Air Force veteran Eric Pendlebury, aged 88 from Glebe Street, served on the Home Front. He enjoyed "passionately puckering up" to singer Kaz for popular standard 'Side by Side'. "It's been a great afternoon," he said – posing for photos with The Land Girls.
The afternoon's entertainment concluded with a special round of applause for 92-year-old Royal Marine Ken Preter of West Leigh, pictured right, who will finally be presented with his service medals 76 years after the end of the war on 14 May.
"We're so proud to offer servicemen and women, and all those who experienced the war years, a warm welcome at Patrick House through the various friendship groups we host," added Pam. "I would especially like to thank Compassion in Action's Keith Burns, who has taken the lead for us on this important area of our work. The example of resilience, pride and duty of service that the veterans set is proving to be very inspirational to our Recovery Academy members, as they work to overcome their personal difficulties. Compassion is at the heart of what we do, as we strive to make Leigh a united, caring community."
The Women's Land Army (WLA) was a British civilian organisation created during the First and Second World Wars to work in farming – replacing men called up to the military. Women who worked for the WLA were commonly known as 'Land Girls'.
The Land Girls' visit to Patrick House is one of a series of public events on our calendar. Please telephone 01942 418830 or call in at Patrick House, 58 Leigh Road, Leigh WN7 1QR for details of other community events.