'Beautiful game' Unites Police and Charity Residents
30/08/2015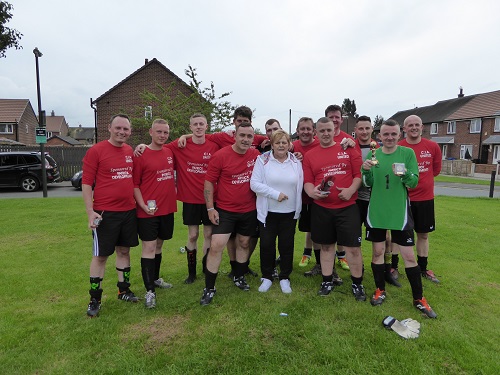 A football 'Super Sunday' in Shevington saw Officers from Greater Manchester Police (GMP) take on our Patrick House residents.
The 'friendly' was the first time many of our residents had played football as they continue with their journey from personal crisis towards living independently from total dependency.
"This wasn't just about a game of football," said our Chief Executive Pam Gilligan. "It was about people uniting together and having fun. A special thanks to Sergeant Dave Whittaker of Greater Manchester Police for organising this game for us."
The match took place at Shevington Football Club's ground on Highfield Avenue, Wigan – drawing a crowd of supporters including residents' family and friends, as well as off-duty officers from GMP.
"It's fantastic to see both teams come together in a positive, friendly environment," said GMP Superintendent Jacqui Pendlebury – cheering on from the touchline.
"I've been incredibly moved having visited Patrick House and seeing the work going on there by Pam and her team. I am grateful to all my staff for taking the time out to be here today. This match is hopefully the start of an ongoing affiliation between ourselves and the charity."
The final score line was 14 – 0 to GMP with Compassion in Action resident and goalie Gary Brown being awarded the coveted 'Man of the Match' trophy.
"I want you to be proud of yourself today – you are all winners," added Pam, as she handed out individual medals to each of the charity's players.
The residents were each presented with Shevington FC badges by Sgt Whittaker, who told them: "You are always welcome at the club".
Compassion in Action earned the Queen's Award for Voluntary Service in 2014.
On completion of the charity's pathway, each Recovery Academy member will be assisted with accommodation in the community; be in a work placement or employed.
The charity's fifth anniversary charity gala – a 'Red and Black Ball' will take place on 18 September at Leigh Sports Village, and includes a guest appearance by Linda Nolan. Tickets are £40, but must be booked in advance. Please telephone 01942 418830 or call in at Patrick House, 58 Leigh Road, Leigh, WN7 1QR.