Back At School with Wigan & Leigh Young Carers
03/10/2016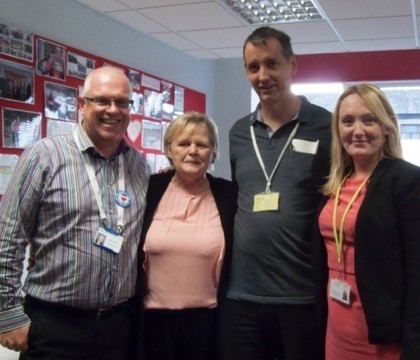 We are very proud and honoured to have hosted Wigan and Leigh Young Carers, Back at School Event at Patrick House, on 22nd September 2016.
Over 60 people attended the evening, including Simon Barber CEO of 5 borough partnership, James Winterbottom Director of Children's Services Wigan Council, Sarah Marshall Asst. Director of NHS Wigan Borough Clinical Commissioning Group & Cllr Joanne Platt, Portfolio holder of Children & Young People Services.
The aim of the event was to see how young carers & young adult carers have settled back in at school, college & university.
"It is an honour to support such a wonderful organisation Wigan and Leigh Young Carers not only at their special event but all through the year" – Pam Gilligan, Chief Executive, Compassion in Action.
There was a testimonial from Robert Muir read out who has engaged with the service from the age of 6, he is now a Community Safety Officer working with Greater Manchester Fire & Rescue Service (GMFRS).
An inspirational talk was also given by Tom Hacker (who was a young carer from Wakefield) who raises thousands of pounds for McMillan Cancer Nurses by walking, running & cycling all over the country. Tom kindly brought in his Olympic Torch from 2012 which the young people found 'pretty awesome!'
The charity support a vulnerable group of young people whose lives are significantly affected by caring for a family member who has a physical illness, disability, mental health issues, a sensory disability or a problematic use of drugs/alcohol.
"It was a humbling experience to join the Wigan & Leigh Young Carers and hear their experiences.  I was taken by how people so young have so much responsibility and therefore how important the group is to provide a bit of respite and friendship and support to circumstances that can be very lonely"
Simon Barber, CEO, 5 Borough Partnership
"We want to encourage young carers to be confident and feel safe while also giving them the chance to fulfil their own ambitions while also looking after their loved ones in what can be a stressful and challenging situation. We recognise how important it is to make sure our young carers are well supported and through our work with Wigan Clinical Commissioning Group and Wigan and Leigh Young Carers we want to make sure we can look after the health and wellbeing of young carers across Wigan Borough."
Councillor Joanne Platt, portfolio holder for children and young people at Wigan Council
For more information about Wigan and Leigh Young Carers, please visit www.walyc.org.uk or call Paul Carroll, Project Manager on 01942 679352.