Distinction success for Business Admin Apprentice leads to promotion
06/04/2023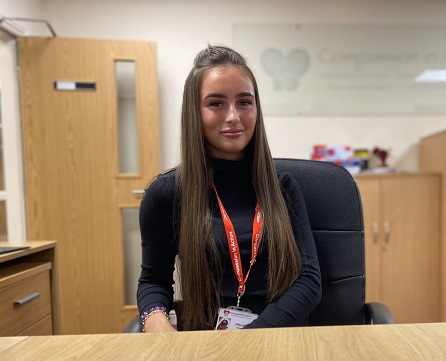 Compassion in Action's Business Admin has completed her apprenticeship with multiple distinctions – earning a much-deserved promotion to Office Manager as a result.
Chloe Gilligan, 17, undertook a 12-month Business Administration Apprenticeship – designed to provide learners with an understanding of the fundamentals of business – through Smart Training & Recruitment.
Having already completed various assignments and a mock exam as part of her apprenticeship, Chloe was then observed in person by a Northern Council for Further Education (NCFE) assessor as she went about her daily duties at our Patrick House headquarters. She also completed a showcase interview and professional discussion on Friday, 24 March.
"I am delighted to have not only passed my apprenticeship with distinction in all three areas I was assessed in, but also to have been promoted to Office Manager," said Chloe, who now has line management responsibilities for our new Business Admin Apprentice, Nina Lomax.
"As well as supporting Nina through her apprenticeship, I will be managing the charity's delivery and collections function and referral process, with our Operations Supervisor reporting directly to me.
'I wanted to get this qualification for my own career aspirations, but also to make my family proud. I have worked very hard – attending monthly Zoom sessions with my Learning and Development Tutor Sophie Fowkes, who has been amazing – really professional, but also friendly and approachable."
Reflecting upon Chloe's achievement, Sophie said: "Well done to Chloe for successfully achieving her apprenticeship with a distinction. This is a great achievement and a true reflection of all the hard work she has put into this qualification. Throughout the apprenticeship, Chloe demonstrated commitment and perseverance – ensuring she completed all work to the best of her ability. Congratulations on such a fantastic achievement and I wish Chloe every success in her future career with Compassion in Action."
In her first year at the charity, Chloe observed how our Christmas Toy Appeal was managed behind the scenes. Last Christmas, she took charge of processing every single referral – making sure that every child received age-appropriate gifts and a dinner to enjoy with their families.
"I came in before my shift was due to start on Christmas Eve to coordinate the delivery operation and get every parcel to the correct address," Chloe explained. "I wanted to do that for the children, but also for my nan, as I know how much the appeal means to her."
Our CEO Pam Gilligan said: "Chloe has embraced all aspects of her apprenticeship from Day One. She has exceeded all the expectations of myself and the Board – doing everything we have asked of her and doing it well. Chloe's confidence has grown immeasurably from attending meetings in a professional environment and working alongside senior team members, who have all supported her learning. She brings immense value to our charity – and our delivery and collections function in particular – and we are delighted to recognise and reward her contribution with an exciting promotion.
'It is a pleasure to have welcomed Nina on board as our new Business Admin this past month, as part of CIA's ongoing commitment to empowering young people through apprenticeship opportunities. We are now looking forward to seeing Nina blossom under Chloe's leadership."
Former Westleigh School pupil Nina, 17, expressed her gratitude to the charity and added: "Pam, Chloe and all the team are really hard-working and have been helpful to me in my new role. It means a lot to be involved with a charity that helps people, and I especially enjoy welcoming our local veterans every Thursday for their weekly brunch. I am very happy to have this apprenticeship opportunity, and excited for my future."