Black and Gold Charity Ball marks 10-year anniversary of Compassion in Action
18/11/2019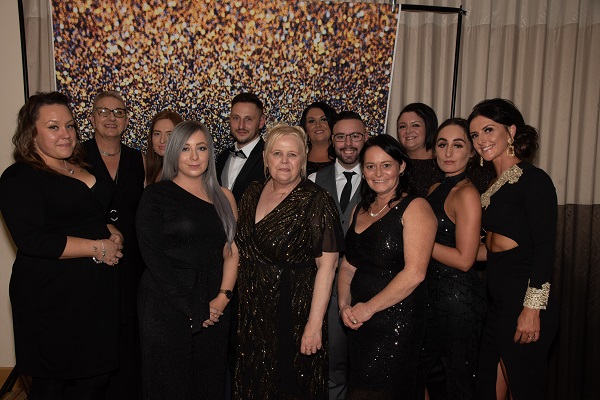 LOCAL dignitaries, third sector partners and private business owners gathered at Leigh Sports Village to mark the 10-year anniversary of Compassion in Action (CIA) with a spectacular Black and Gold Charity Ball.
Special guests included Lord and Lady Smith, Deputy Leader of the Council Keith Cunliffe, Leigh MP Jo Platt and Cllr Sue Greensmith and her husband Alan.
"Life's a journey and we take a holistic approach to a person's life in crisis," said CIA's Chief Executive Officer Pam Gilligan – addressing an audience of 175 guests.  "On behalf of all our staff and volunteers, I would like to thank all our valued partner organisations, patrons and ambassadors who have championed us with belief, compassion and support since we became a registered charity in 2010."
The evening's speeches were dedicated to the "irresistible force" of Pam, who was awarded the Queen's Award for Voluntary Service in 2014.
"Pam's job role, in our opinion, has no start and no finish," said the charity's President Val Allen. "Everything she does is from the heart and her passion and dedication is mirrored by our amazing staff and volunteers – enabling us to support over 30,000 people in the borough.
'Not only does Pam dedicate her time to supporting those in need, she has also been a mother figure to all the staff at Compassion in Action, as well as to her son Craig, daughter-in-law Linda and her two beautiful grandchildren Chloe and Mia."
Praising CIA's ability to compassionately and enthusiastically meet the needs of people who fall through the cracks in today's "modern and complex society", Lord Smith led an array of warm tributes from Keith Cunliffe, Jo Platt, Cherish UK Chairman Peter Watson and former Leigh Centurion Micky Higham, who is now an ambassador for the charity.
Messages of congratulations were also read out from those not in attendance – including one from a past tenant of Patrick House, who wrote: 'Pam supported me in my time of need and has enabled me to have a more positive outlook on life. I am now employed full time, engaged and looking forward to a positive future, which I could not have achieved without the help and belief of Pam'.
Wigan singer and DJ Ricky Birchall entertained guests with a medley of Motown hits and contemporary classics. He dedicated Tina Turner's 'Simply the Best' to Pam, who took to the floor with her son Craig.
Pam said: "I would especially like to thank all our valued partners from the third and public sectors who attended on the night – including Beacon Counselling Trust, Wigan & Leigh Young Carers, Cherish UK, Wigan Council and North West Boroughs Healthcare.
'We also received wonderful support from Patrick Joinery, Regency Glass, Leigh Centurions, Gwen Appleton and all the team at ASDA, Wigan Metropolitan Development Company, KJ Fire and CHW Accounting. Thanks to the collective generosity of all our guests, our charity raffle raised £577."