Atherton
More than just furniture…
From a single sofa to furniture for every room, Compassion in Action provides whatever is needed to turn a house into a home. Operating out of our distribution centre in Atherton, we run a five-day delivery service – bringing furniture and white goods direct to households across the borough.
Each item is lovingly picked and carefully chosen to meet the specific needs of the individuals and families who are referred to us for support from Wigan Council's Welfare Desk. Whether it is a brand-new dining table so a single parent can eat meals with their children, or a donated and deep-cleaned armchair so a veteran can find comfort and ease, we always aim to help people in crisis feel seen and supported.
"We lead with compassion and professionalism in everything we do – recognising that, for many people in desperate need, the distribution and warehouse team are the very first representatives of the charity they will see in person," said Pam Gilligan, CEO.
"At a time when they have no other means of support, we are honoured to be a lifeline. It's never about 'just furniture' with us… It's about giving hope at a time of despair."
Our meticulously high health and safety standards ensure that every piece of furniture donated is carefully vetted and deep cleaned before it leaves our warehouse. Many items are sourced brand-new too where required, so that people can enjoy a much-needed fresh start when moving into a new home.
"We want our customer experience to always be exceptional, with every person we support feeling they are being communicated with in a dignified manner that is respectful of their circumstances and culture," added Pam.
Food and other household necessities – including cleaning products, nappies and baby formula – are also distributed from the centre, which have been donated by the community, local supermarkets and partners. Parcels are put together to order – reflecting the recipient's immediate needs and individual dietary requirements. During the festive season, we strive to ensure every child referred to us has three age-appropriate gifts, so no child is forgotten by Santa, or by the Easter Bunny come April.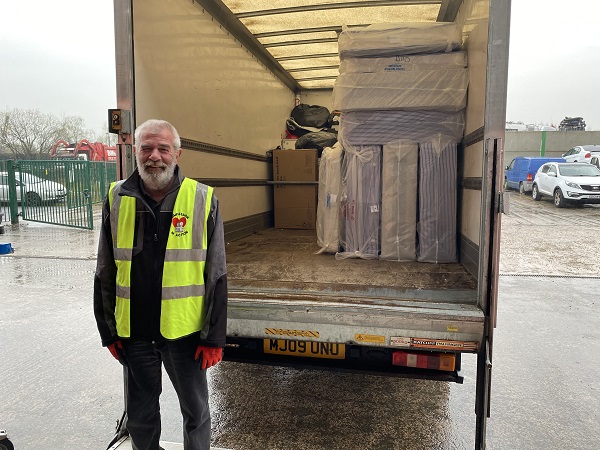 I am in crisis and need help furnishing my home. Can you help?
If you are already in receipt of support from the council or other local partner agencies, ask about a referral to Compassion in Action.
If you are not already within services, then telephone us on 01942 418830. You will get an honest answer on whether we can personally help, or advice on who else you can reach out to for support.